Back to News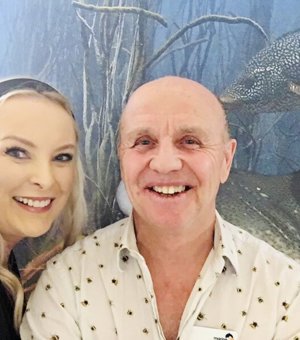 Optical Express and Blue Planet's Doug Allan at the Marine Conservation Society AGM
Earlier this month, our Corporate Social Responsibility Manager Heather Suttie attended the Marine Conservation Society's AGM at Senate House in London.
Hugh Raven, Chairman of the Marine Conservation Society launched the AGM, sharing the news that in the last year of the charity's work, their revenue increased by 40%, social media followers increased by 30% and membership almost doubled. They also celebrated their successful campaign to ban microbeads, their continued progress tackling single-use plastics and the results of The Good Fish Guide which ensures businesses source and procure seafood in an environmentally responsible way.
Other highlights included the number of organisations taking part in team beach cleans. 2,823 employer supported volunteering teams took part in beach cleans throughout the UK, including  companies such as ASOS, Pernod Ricard, WWF and Direct Line Insurance.  Sky Ocean Rescue took part in 29 beach cleans for 1,883 of their staff and
Optical Express organised our first beach clean at Clevedon Pier, near Bristol in November and it was such a rewarding day, we will be organising a number of beach clean events throughout 2020. 
Guest speakers included Susie Rodgers MBE, an MCS Ocean Ambassador and former Paralympic swimmer and Kiko Matthews, the fastest female to row the Atlantic solo and unsupported in just 49 days.  The main speaker was Dragon's Den and MCS Ocean Ambassador Deborah Meaden, who spoke passionately about how businesses operate and must adopt a positive environmental focus. She's nurtured forty-three businesses over fifteen series of Dragon's Den and after a life-changing trip to Tokyo gave up eating fish and admitted that she's trying out veganism in January, or Veganuary.
She spoke about her commitment to "Doing the right thing" for the environment and talked about her experience on an MCS beach clean.  She initially thought the beach was clean but after closer inspection and digging in the sand, she couldn't believe the number of microplastics in one metre. She concluded by saying "I love the work of the MCS, I'm passionate about what they do. Encourage everyone you know to take part in a beach clean and play your part for the environment. We can change the world."
Heather, was thrilled to meet fellow Scot, Doug Allan. Originally from Dunfermline, he is one of the world's most celebrated marine biologists, filmmakers and photographers. Allan has worked on marine and wildlife programmes including Blue Planet and Planet Earth and has won eight Emmys and four BAFTAs and in 2017 he won an outstanding contribution award at the British Academy Scotland Awards.
He told Heather "I've been a member of the MCS for many years, probably 20 odd years or so and they made me an Ocean Ambassador recently. I believe in everything that the Marine Conservation Society is trying to achieve and the thing I like about them is that they work with everybody from about four or five-year-olds with their beach cleans, all the way up to hobnobbing with politicians who will hopefully make a difference."
On the subject of contact lens pollution he said "Contact lenses are made out of single-use plastics,  there has to be an alternative to that or people have to be made aware of the fact that they are using these single-use plastics and therefore made aware of the best ways to dispose of them, not just flush them down the toilet where they're going to end up in the sea."
Doug Allan lives in Bristol, where Optical Express recently organised a beach clean in support of the Marine Conservation Society. Watch our video here.