Back to News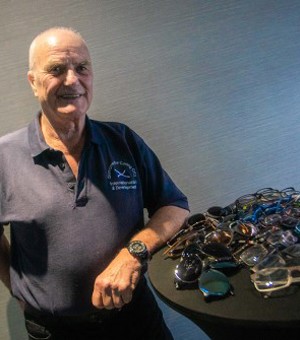 Optical Express supports The Caring City charity project in Sri Lanka
Optical Express has been supporting the work of The Caring City for many years, with the donation of hundreds of thousands of pairs of used glasses, giving the gift of sight to community projects at home here in the UK and Africa.
Most recently, we were able to support one of the charity's projects in Sri Lanka. Volunteer Neil Wilkinson has been involved with The Caring City charity since 2005 following the 2004 Indian Ocean earthquake and tsunami. Neil said "I was volunteering on a project which initiated a programme to distribute aid to some of the worst hit areas in Sri Lanka. This aid took the form of hands on work in refugee camps in Unawatuna and Ahangamma, two of the worst hit areas in the south of the island, and we managed the collection and distribution of a 40ft container of goods in kind, donated by both businesses and individuals across Scotland."
Neil recently visited Sri Lanka with a donation of five hundred pairs of glasses which were donated by Optical Express, "On behalf of The Caring City and the communities we've been able to support, I'd like to thank Optical Express for their continuous support and generosity." He added "On this recent trip to Sri Lanka in March, we were able to make donations to the men, women and children across three projects.
One of these projects is The Sacred Heart Convent in Galle. The school was established in 1896 by the Sisters of Charity in Belgium due to the urgent need for education of young girls in Galle. Today over 2,200 students are supported and Neil said "The convent looks after young girls who have not had the best start in life and also has input to the local prison to which Sister Alex gives spiritual, and now with the donations from Optical Express, visual help!"
Neil said "Optical Express can be assured that through their generosity and that of their patients, many individuals in Sri Lanka have quite literally been given a new outlook in life."
Corporate Social Responsibility