Back to News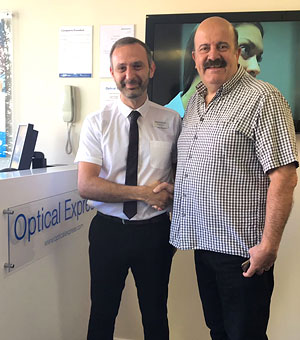 Optical Express had the pleasure of welcoming legendary snooker ace Willie Thorne to its Bristol, Castlemead clinic for Lens Replacement Surgery this May.
The former professional snooker player is one of the most recognisable faces of the game and known across the globe for winning the 1985 Classic, and the World Seniors Masters in 2000. After enjoying a 25-year career, he has more recently turned his head to sports commentating for the BBC to avoid retiring from the sport altogether.
The Leicester cue man became known as 'The Maximum Man', having apparently made more 147s in practice than any other snooker players. Willie is a familiar character on the snooker circuit too, with fans remembering him as one of the true greats of the game.
Having had a career that required intense focus and coordination, putting his eyes under a lot of strain, he noticed his vision gradually deteriorating. Struggling to enjoy playing the game and itching to return to the table, Willie sought advice from eye care specialist Optical Express.
Willie said: "After struggling with poor vision for years, I was pleased to discover that I was eligible for Lens Replacement Surgery with Optical Express. I went for an initial consultation, where I was provided with all the information I could ask for and booked in for surgery in May 2018.
"Playing snooker for a living meant that I was concentrating for long periods of time, putting tremendous strain on my eyes. My vision began to affect both my career and my performance, which became one of the reasons that I retired from a sport I loved."
Lens Replacement Surgery is a procedure which involves the damaged lens being replaced with a synthetic one. A surgeon will create a miniscule opening in the surface of the eye before the new lens is secured into place.
The surgery can correct both distance and nearer vision, allowing patients to experience sharper and clearer vision for the long term. The surgery has been a success for Willie and his hope is that he will be able to return to the Seniors tour and reignite old rivalries.
Willie concluded: "The service I have received from both my surgeon, Dimitri Kazakos and the staff at Optical Express has been first class and I wouldn't hesitate to recommend them to anyone who suffers from poor sight or vision related problems."
James Griffin, Surgery Manager at Optical Express Bristol Castlemead said: "It was a pleasure having Willie in for Lens Replacement Surgery and we're delighted that he is happy with the outcome of his surgery. We're excited to see what his next steps will be and look forward to seeing him returning to the Seniors Tour!"
Find out if you're suitable for life-changing LENS SURGERY. Book a free, no obligation consultation at Optical Express: https://www.opticalexpress.ie Tel 1800 818 543
Book a Free Consultation